Services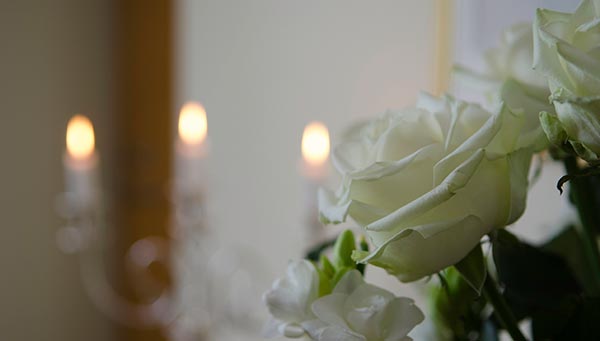 OUR GOAL IS YOUR COMPLETE SATISFACTION!
Each family we serve has its own unique and special needs. That's why we strive to offer wide ranges of products and services, and why we listen to your wishes and desires when arranging a funeral for your loved one. We know that greater satisfaction comes when you and your family chooses exactly the type of services you desire. Please navigate the tabs below for more information.
Whether your wishes are for a traditional funeral with military honors, or a simple committal service, our family owned funeral home offers you the same care and understanding.
Product selections vary according to your individual taste and your affordability. Our selections offer something for every preference.
We offer:
TRADITIONAL FUNERAL SERVICE
The traditional funeral service is what most families choose when selecting their funeral arrangements. It normally includes a visitation with family and friends at the funeral home. The funeral usually takes place the next morning beginning at the funeral home followed by a church service then burial at a cemetery of your choice. Services can also be conducted at the funeral home where we can arrange for clergy to come to our facility and say a few words or preach a sermon.
MEMORIAL SERVICE
A Memorial Service is a service without a visitation and the remains of your loved one are not present at the time of the service. It is a time for family and friends to commemorate their loved one with comfort of each other. Our staff will provide our professional service, use of the funeral home, funeral professionals present at the church of your choice and all transportation needed for your family.
GRAVESIDE SERVICE
A Graveside Service is a way for families and friends to pay their last respects to their loved one without the formalities involved with a Traditional Funeral Service. Normally, families and friends will gather at the grave site for a brief ceremony. Clergy can be hired to officiate or the Funeral Professionals at our establishment can provide a few prayers taken from the Christian Book for Funerals.
IMMEDIATE BURIAL
Immediate Burial is when burial occurs shortly after death. No viewing or visitation is involved, so no embalming is necessary. A memorial service or graveside can be selected accompanying an immediate burial.
For information or questions please call us, or
To begin the process of Advance Planning Online
We accept major credit cards.
Although cremation dates back to ancient times, it has only recently become a more common choice throughout the United States. People choose cremation for a variety of reasons. Some do so based on environmental considerations. Others have philosophical or religious reasons.
Many people believe that choosing cremation means limiting your options. Actually, there are a variety of options available with cremation. Most families hold services, which help the bereaved cope with the loss of a loved one. Many people find that opting for cremation gives them the opportunity to create and personalize the various service options for a more meaningful experience.
COMPLETE FUNERAL SERVICE WITH CREMATION
If you decide to have your loved one cremated or if it was the request of the individual, viewing is still an option when choosing this service. Often, families choose to have visitation with or without a church service prior to being cremated. Depending on the circumstance, embalming may still be necessary when selecting this service.
MEMORIAL SERVICE
A Memorial Service is a service without a visitation and the remains of your loved one are not present at the time of the service. At this service, you may choose to have the urn present. This ceremony can be held at the funeral home or a church.
GRAVESIDE SERVICE
A graveside service is celebrated after your loved one is cremated. Family and friends gather at the grave site where a brief ceremony is held to honor the memory of the deceased.
DIRECT CREMATION
Direct Cremation is when cremation occurs shortly after death, without embalming. The cremated remains are placed in an urn or other container. No viewing or visitation is involved, however, families still have the option to hold a graveside or memorial service if the decide.
BURIAL OF CREMAINS
Burial is still an option if cremation is part of your funeral arrangements. Options are available. Ask your funeral arrangement specialist during conference.
For information or questions please call us, or
Pre-planning a funeral has many benefits to both you and your family. It clearly expresses your wishes ahead of time, allowing your family to complete the funeral arrangements you desire.
Advantages of Pre-Planning:
You can have all of your affairs in order and inform family members of
your requests and wishes

You can have peace of mind knowing that there are funds to cover funeral expenses

You can lessen the emotional and financial burden of your survivors during a sorrowful time

You can protect yourself against rising funeral costs over the years
Pre-Planning services we provide include:
Recording all information needed for use in newspaper notices and death certificates

Document service wishes and any other desires

Guaranteed funeral prices (freezes price of funeral)

Arrangements can be made either at the funeral home, or we can meet with you at your home
For information or questions please call us, or
---
Click Below for Details